If you know me very well and my love for Shakeology, you also know that my love for Peanut Butter is almost just as equal!!!!  But, with addictions sometimes they can be a bad thing for watching what your eating right? Well, I found this amazing substitute, and what all you can you do with this amazing food???
But first of all, what IS PB2??
powdered peanut butter, made by squeezing natural oils out of the peanut and then dehydrating what is left
contains 85% less fat than regular peanut butter
One serving of peanut butter: 190 calories, 16 g of fat, 7 g carbohydrates, 8 g protein, 3 g fibre, 0 mg sodium
Although regular peanut butter is high in fat and calories, it is also high in protein, Vitamin E, iron and other nutrients…meaning this is not an empty calorie food.
In my opinion, peanut butter should not be avoided because it does provide many health benefits.
But if you are like me and have a real peanut butter addiction and need to cut back, this is a great way to get the taste without the calories!
One serving of PB2: 45 calories, 1.5 g fat, 5 g carbohydrates, 5 g protein, 2 g fibre, 94 mg sodium
While it is a great alternative, DO NOT EAT PB2 BY ITSELF.  It is in powder form and is meant to be mixed with other foods.
Here is what I do with PB2:
1. Swap it for jelly, butter, or regular peanut butter on toast, English muffins, etc.
2. Mix 3 tablespoons of PB2 with plain Greek yoghurt.  Us for dipping apples, celery, bananas, etc.
3. Add 2 tablespoons to your smoothie.  I use it daily in my morning shake with my Chocolate
Shakeology
.  I also add a little sea salt, so it tasted like a salted Reese's Cup!!!!
4. Make PB2 and banana "frozen yoghurt".  Mash 2-3 small bananas in a ziplock bag and toss 'em in the freeze.  When your froyo craving hits, throw the frozen banana mash into the blender or food processor, add 2-3 tablespoons of PB2 and blend!  Wah-lah!
5. Add it to your overnight oats or morning bowl of oatmeal.
6. And last but certainly not least, is my favourite – Energy Balls!!!
1/3 cup peanut butter
1/3 cup honey
1 cup coconut flakes
1/2 cup ground flaxseed
1/2 cup mini chocolate chips
1 tsp vanilla
2 tablespoons PB2
Mix together and roll into balls!! Divine!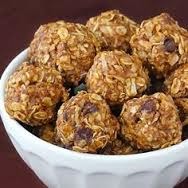 So, there is a little about my love for PB2 and what you can do with it!  I hope this helps.